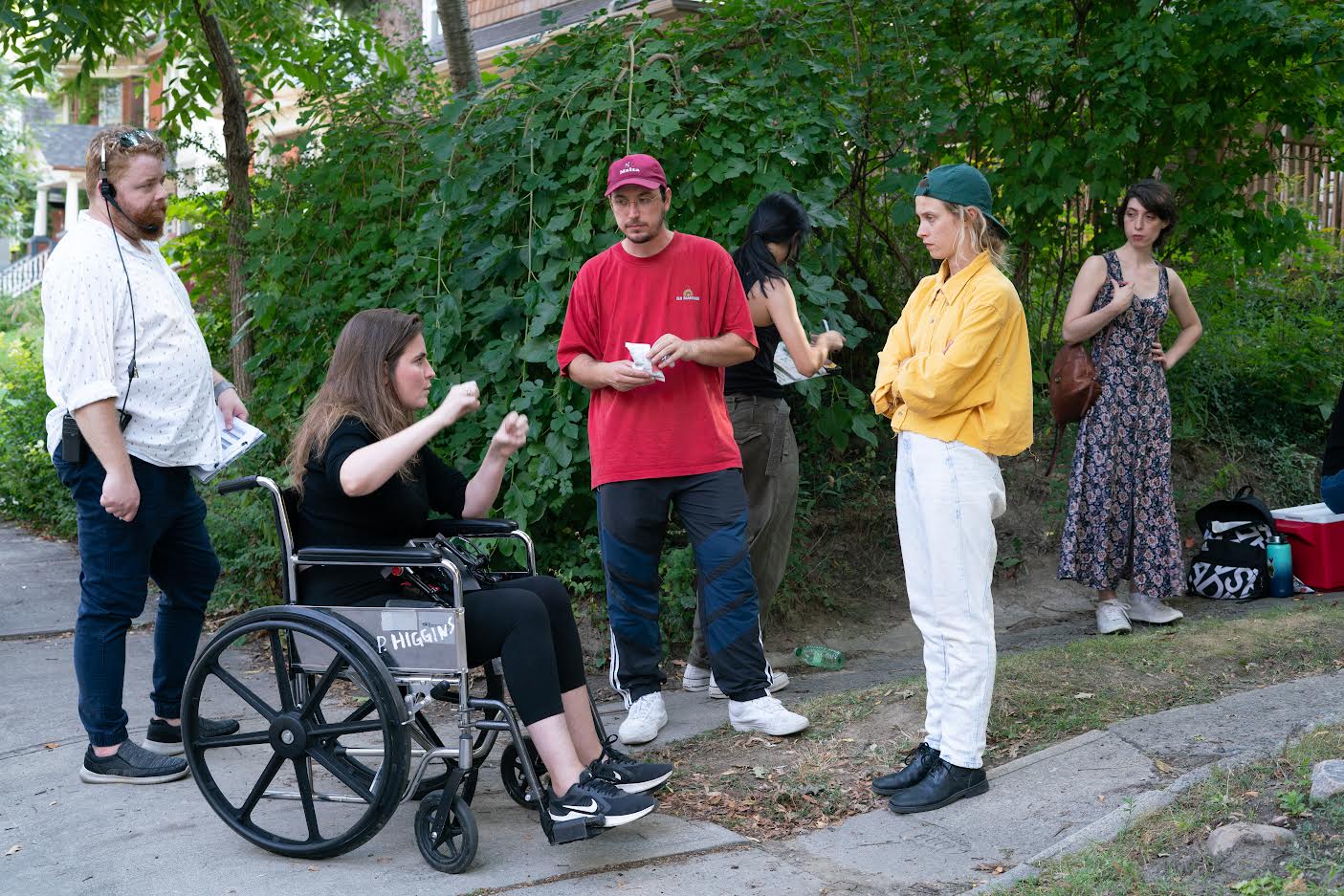 Photo: Rebeccah Love directing her Eve Parade cast and crew. Photo by Ben Dickey.
Artist Bio: Rebeccah Love is a Toronto-based filmmaker, writer, visual artist and community organizer. She studied at the University of King's College, then completed a BFA in Film Production at Ryerson University, and an MFA at the University of Guelph in Creative Writing. She has produced eight short films, focusing on love, illness and neighborhoods. These stories have played TIFF, VIFF, FNC, Kingston, the Future of Film Showcase, and CBC. She is an organizer in the arts community: as editor of the Toronto Arts Report she pays close attention to developments in the worlds of theatre, fine art, filmmaking, writing, arts administration, and arts journalism. She is interested in questions relating to mental health, city planning, art history, and folk storytelling.
On December 30 (2021), I sat down (virtually) with filmmaker/artist Rebeccah Love to discuss her upcoming release (Eve Parade, filmed in our neighborhood of Regal Heights, Toronto). Questions emergent from our dialogue include:
Whose voices are heard on platforms that communicate mental health experiences?  How do people who have access to privilege and resources, shape what the public consciousness and understanding of psychiatric distress looks like?
How does Eve Parade convey the importance of storytelling? What is the messaging of Eve Parade? Where is this work going to land and why is it important?
Interviewing artists on their visceral experiences of mental health, exemplified in Eve Parade is ambiguous terrain. Will it be possible to have a fruitful discussion through embodied listening and sharing without alienation? In a dominant culture where TV/media is overproduced (staged with pre-determined aesthetic outcomes), is there space to embrace spontaneity in filmmaking (through movement and unscripted improvisation)? In a short film like Eve Parade, are there lessons embedded within its metaphors that remain accessible to a regular viewer?
The authenticity of embodied care work in mental health sectors is an important debate. Self-identified marginalized groups (Black, Indigenous, People of Color), women-identified folks, 2SLGBTQQIA, new Settlers to Canada, and disabled persons are excluded from resources, and power that would allow for more narratives and alternatives models  to deal with  distress. Instead, it is usually individuals whose theory and creativity is aligned with dominant medical discourse, who are permitted access to resources. In a social media driven culture where tweets disconnect from experiences (data fetishized or obscured from an embodied context and circulated online without consent), is it possible to grasp tangible life in film?
Acknowledging the limitations of her privilege, and drive for change, Rebeccah offers a sincere and creative portrayal of care work that supports women 'in crisis.' What does crisis mean to an onlooker, a passerby, or medical professional with decision-making power? Is the intent of 'de-escalation' through care possible without pathologizing or (mis)labeling youth? There are organizations privy to the cause of embodied/radical care from a trauma informed perspective, including Toronto's Gerstein Centre and Reach Out  Response.
I aim to push back on a client-driven mentality that benefits the research progress of urban mental health providers and their institutional affiliations (e.g., hospitals, universities). Aesthetic changes on Toronto hospital campuses that increase property value, do not override 'patient' experiences. Moreover, this interview grapples with the lived experiences of mental health survivors and fosters insights about justice through resilience, as it impacts women and their families.
Rebeccah Love
[The film] Eve Parade is a portrayal of people who make the time to care for one another, even though they may not be family, they may not be best friends, but [when] they notice that someone is having a tough time [community is present to offer support].
Instead of blowing [the circumstance] out of proportion, instead of freaking out and screaming, their response to our protagonist [Eve's] psychosis is very casual and comforting, but not panicked.
A utopian element [of Eve Parade] is expressed in this community as everyone has been trained in nonviolent de-escalation crisis care, [concerning] how to respond to someone who's unwell.
I guess the idea is that for someone in crisis, if they are being met with kindness and warmth, in my mind, they are much more likely to feel calm, and to not respond with as much aggression and fear. [Deescalation is a way of being with others in crisis that does not impose a hierarchy of 'normal' behavior].
Eva:
Thank you so much for framing experiences of enduring psychosis through your filming methodology.
I am wondering if Eve could have gone somewhere that was not the hospital.
Rebeccah
I really did want [Sarah Swire, Eve] to go to the hospital in Eve Parade because the hospital is a part of my journey that I've gone through. I think you're absolutely right there, we should be using our imaginations to create an alternative, or maybe just think about redesigning our hospital spaces for people going through psychosis, spaces that go unwritten about.
And people who do have the ability to express themselves about these spaces, often do not want to speak out about their experiences, as they anticipate professional [and personal] repercussions.
Eva on Storytelling (patient survival):
 Learning about people's lived experiences is part of the storytelling process.
(Sarah Swire, Eve) echoes a line to the effect of: "What we say sounds jumbled and it sounds incoherent but there's profound knowledge and meaning in these words [for people going through psychosis]. We know things."
 Rebeccah:
Psychotic episodes contain profound meaning for those undergoing the experience. There is a kind of knowing or otherworldly knowledge that is being expressed in their scattered behavior.
I would love to do a project where I collect voices [of psychiatric abuse survivors].
I would also love to share this piece within communities of psychiatrists, or healthcare workers who work in mental health, because I think it's an expression of hope, an expression of desire, [an element that reflects] my experience. Sometimes I think about my films as being messages to my own community, to teach them how I would like to be cared for if ever I got sick again (I haven't been sick in 10 years).
 Eve Parade is directly addressing violence that is done to people [who identify with] mental illness.
Eva
The global critical psychiatry, hearing voices movement and anti psychiatry movement, typically queries or challenges some of the discourses around hospitals.
 Is there space for a response from people who question the role that a hospital or doctor plays in conferring psychiatric treatment?
Rebeccah
[Eve Parade] asks a lot of questions about how we're caring for those with mental illness in a critical way, and is gently pushing my entire audience to consider these questions.
Eva
In the last 10 years, Toronto's Centre for Addiction and Mental health (CAMH) has grown to become a foundation that is very public, facilitating research platforms, an Indigenous Medicine Garden, and Equity, Diversity, Inclusion training for staff.
 I wonder, is this part of CAMH's diversifying brand and/or sincere patient/community outreach to institute collaborative care? Who benefits from aesthetic changes to CAMH's mental health promotion?
Rebeccah
I do believe in CAMH and our [medical] system,  but I had violence done against me through the system, so, I definitely carry some anger within me about how our emergency rooms and our wards are all planned out.
And I hear you when you're asking about things [CAMH] can be doing, are they [diversifying, expanding, and reforming] for themselves, or for us [mental healthcare system participants, hospital clients, and survivors]? My impulse is to believe that these initiatives are steps in the right direction; it can take time for our institutions to learn what works. A key component of any project is ample consultation with the community of survivors, and promoting the idea that those with lived experience should pursue administrative and medical leadership positions within the walls of our big psychiatric institutions: this is a great antidote to the problems your question suggests.
 Often, I invite psychiatrists to come and give talks at my premieres. The concern, then, is that if you're working so closely with these institutions, how are you able to think critically about what they're doing and how are you able to create art that questions their intentions? How can you hold onto your own agency, your own voice, and opinions?
I really liked the idea of maintaining relationships [with medical professionals], some of the most fascinating conversations I've ever had [are with psychiatrists]. The medical professionals I keep in my circles are very progressively minded and often share a similar interest in radical transformation of current practices.
I have to be mindful of the fact that there are many people out there who have had much worse experiences than I have had. My privilege as an upper-middle class white woman shields me from more extreme suffering and from complete distrust of our institutions.
Many don't have the ability to empathize with institutions; they have very serious and legitimate issues with the way things are run and don't have the bandwidth to engage cooperatively with health care administrators. I try to listen closely to these voices.
Eva
I relate to your work through women-identified agency; folks who are either fighting the system, or speaking back against its hierarchal regime. Storytellers, who've been in the psychiatric care system, may not have a forum to discuss their experiences (how they were physically or discursively engaged by medical personnel); this is an unspoken silence. Who is a recognized body with the right to speak? I will always support work that provides a platform to tell stories, because they're powerful, and initiate change, even if we do not sense it yet.
Eva Parade premiers: Saturday, April 16th
Doors at 7:00pm – Screening at 7:30pm
The Paradise Theater
1006 Bloor Street West
Toronto, ON