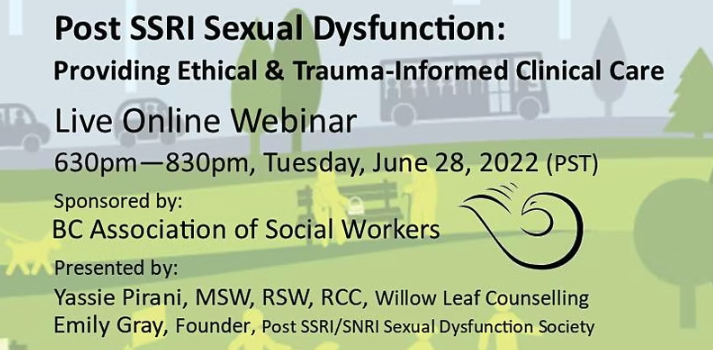 Post SSRI Sexual Dysfunction is an highly stigmatized, understudied, and underreported sexual health condition.
About this event
630pm – 830pm, Tuesday, June 28, 2022 (Pacific)
Online presentation/workshop, with slides, video, and discussion
Sponsored by BC Association of Social Workers
Cost: CA$0 – CA$32.84
Register here
Post SSRI Sexual Dysfunction (PSSD) is an highly stigmatized, understudied, and underreported sexual health condition. PSSD is a debilitating and often permanent disorder arising following SSRI and SNRI medication use, and is characterized by a loss of sexual feeling and function. PSSD is known to severely affect relationships, quality of life, and has resulted in suicides.
All healthcare providers need to be aware of PSSD, and the multi-faceted consequences this condition has for people's lives, relationships, and wellbeing. Social Workers can play a pivotal roll in raising awareness about PSSD and de-stigmatizing the condition.
Defining and Understanding what PSSD is
The informed consent accountability gap
Learning about the lived experience of PSSD
Managing emotional distress from a trauma informed approach
Navigating misdiagnosis, counteracting shame and stigma
Progress on PSSD activism
PSSD and Social Work Ethics
Yassie Pirani (she/her) is a Registered Social Worker and Registered Clinical Counsellor. At Willow Leaf Counselling Yassie specializes in counselling people with Post SSRI Sexual Dysfunction (PSSD). Yassie has years of experience in the field of of sexual and mental health, and works from a trauma-informed and anti-oppressive approach. In addition to Yassie is also the co-director of the Canadian PSSD Society.
Emily Gray is the founder of the Canadian PSSD Society, a registered non-profit. She aims to increase awareness among healthcare professionals and the public, advocate for futher research on PSSD, provide community support for people suffering from PSSD, and promote informed consent about the risks of irreversible sexual dysfunction related to antidepressants.
Disclaimer – The educational material presented in BCASW hosted events is for general educational information purposes only and is solely the opinion of the author, presenter and instructor. No webinar is intended to provide professional or legal advice, and the material presented is not necessarily considered mainstream social work theory or practice. It is left to the discretion and judgment and is the sole responsibility of each attendee to determine what is useful for their own practice. BCASW cannot be held responsible for the material, opinions, or any inadvertent errors or omissions in the preparation or presentation of the material.